The 1970s – Foundation of the Group
February 1973
Killarney Plastics was formed by Anne & Con Stack on the February 1, 1973 to manufacture high-quality composite and fibreglass/glass reinforced plastic (GRP) products which were revolutionising the manufacturing inductry.
A New & Innovative Material
At that time, glass reinforced plastic (GRP) was a new, cutting edge and innovative material to the Irish market and allowed for a new means of product design and production.
Start Small, But Think Big.
The company, orignally located in a lane in the town of Killarney, began by producing a range of products for the local population. The range of products included boats as well as motor bike fairings.
The 1980s – Growth of the Business
Early Success
Following its early success, a more significant premise was required to service the high demand for GRP products. The company broadened its horizons and moved to a new site where it constructed a small factory in the early 1980's. Further employment was generated in response to demand.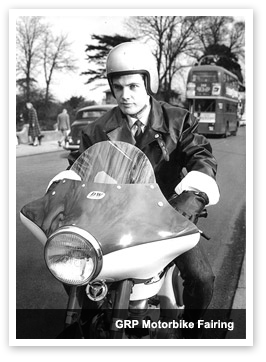 Product Expansion
Business thrived, and the company focused on further developing its range of its products; this soon began to included water storage tanks and meter enclosures. The experience gained helped to establish unique manufacturing methods which laid the foundation for innovation and would later prove to be a critical factor in the growth of the company. 
The 1990s – Developing a Clear Strategy
Early 1990's
 Market development strategies saw the first export sales generated to the UK and Europe. Killarney Plastics capabilities and reputation in engineering and technical development flourished across Ireland and UK which was instrumental in being awarded contracts for both Irish and UK Utilities
1997 to 1999
1997 saw further expansion with the setting up of raw material distribution company Fibreglass Sales in Northern Ireland and in 1998 Killarney Manufacturing Group (KMG) was established to integrate the experience, manufacturing capabilities and personnel of the individual companies.
1999
In 1999 KMG completed its first acquisition, Technotrak which provided the Group with a platform to diversify into the design and manufacture of civil and road safety products. By the end of 1999 saw KMG acquired two of the UK's leading water tank companies Dewey Waters and Nicholson Plastics, effectively doubling the size of KMG.
The 2000s – Strategy in Action
Millenium
The start of the millennium saw KMG consolidate its recent acquisitions and construct a new headquarters which comprised of an R&D centre as well as an advanced manufacturing facility in Killarney, Co. Kerry, Ireland. The headqaurters provided a nerve centre for the companies continual growth.
2002
As part of KMG's diversification strategy, the group expanded into the Environmental Sector and a new Environmental Division formed in 2002 with a focus on the sewage treatment market. Initially, the focus was in Ireland and the UK, and after that expanded further in to Europe and the USA.
2005 to 2010
In 2005 KMG acquired AC Plastic Industries, a leading UK manufacturer of water and fire sprinkler tanks, which initially formed in 1958 and had a long tradition of supplying water tanks to the Middle East as well as North Africa. From this point on, KMG become the leading GRP water tank manufacturer in Europe with product sales in Europe, Africa and Asia.
2010-2020 – Innovations, Robotics and Beyond 
2011 French Market
In early 2011 KMG achieved a French Government Licence for its Tricel sewage treatment products and pens its first mainland European factory in Poitiers, France to manufacture the Tricel range of sewage treatment products for the French market. Tricel also received certification for its range of wastewater treatment systems in Germany in 2012.
2014 Company Rebrand
Due to the growing success of Tricel, on March 28, 2014, KMG headed by its founding company Killarney Plastics underwent a rebrand which saw companies within the groups existing structure renamed to Tricel. The original Tricel brand was established in 2002 and the company rebrand meant all Group elements could work together under a progressive new identity.
2015 New Jobs
May 2015 – 100 new jobs are created over twelve months by Tricel. The new jobs include graduate positions that bolster and strengthen operations in management, engineering, research and develepmont, product development, marketing and manufacturing. The positions are based in Ireland, UK and France.
2015 Further Growth
Tricel announce the acquisition of CE certified Puraflo and the Platinum range of sewage treatment systems from Bord Na Mona. In addition, Tricel also acquire Finol Oils, located in Dublin, Ireland. Finol Oil provides lubricant and maintenance products to industries including Automotive, Commercial, Agriculture, Construction, Marine, Motorcycle, Industrial and Food manufacturing.
2016 Fiberglass Supplies (Leeds) Ltd. Acquisition
In January 2016, Tricel announced the addition of Fiberglass Supplies (Leeds) Ltd. Based in West Yorkshire, the company has been in operation since the 1970's and has an established offline and online presence. The company now forms part of the Tricel Materials Division, and brought with it a wealth of experience from the fibreglass industry.
2017 Action Pumps Ltd. & Tricel Composites
In 2017, along with the successful launch of Tricel Composites, the group also acquired Action Pumps Ltd, a UK based company. This acquisition was the latest in a series of moves targeting Tricel's highly successful 2020 growth strategy. Tricel also achieved the French Agreement for the Seta Simplex, along with a French Agreement for the Novo pumped system.